National Alliance for Accessible Golf Appoints Dave Barton Its Executive Director
March 2, 2022 – The National Alliance for Accessible Golf (National Alliance) is pleased to announce the appointment of Executive Director Dave Barton, PGA. Barton officially accepted the position at the Alliance's Inclusion Conference in January and began his tenure on February 22. He currently resides in Charleston, SC.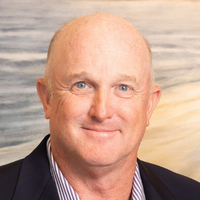 Previously, Barton served as the Senior Director of Membership and Education and Editor of Golf Business Magazine and Golf Business Weekly with the National Golf Course Owners Association (NGCOA). In this role, he directed membership engagement and growth initiatives as well as curated and delivered education via print and digital media, the NGCOA website, live and recorded webinars and events, including Golf Business LIVE, and annual national NGCOA education conferences.
Barton transitioned into the golf business in 2005 after a 22-year Navy career as a Helicopter Pilot, completing his career with the Chairman, Joint Chiefs of Staff, Pentagon. He obtained his PGA Membership in 2008 and is a PGA Certified Professional in Executive Management. He has held golf operations and management positions at multiple facilities, predominantly with Raspberry Golf Management in the Northern Virginia area, including Head Golf Professional, multi-property management, golf instructor, and golf facility ownership.
During his time in Northern Virginia, he performed seasonal golf instruction with the Salute to Military Golf Association (SMGA), a national non-profit with the mission of "...providing rehabilitative golf programs, experiences, and family inclusive golf opportunities for Post-911 combat wounded war veterans" and a previous National Alliance grantee.
Barton obtained the Accessible Golf Professional Certificate in 2012 established by the Global Accessibility Initiative (Penn State University), the SMGA, and the National Alliance, and has instructed at PGA Hope clinics in the Charleston, SC, area.
When asked about the opportunity to serve as Executive Director for the National Alliance, Dave shared, "I am humbled by the opportunity to lead an organization contributing in so many ways across the country towards accessible and inclusive golf opportunities for individuals with disabilities. The golf industry as a whole benefits by continuing to seek ways to encourage, invite, and welcome this diverse population to the game."
On behalf of the Alliance Board of Directors, President Justin Apel shared, "We are pleased that Dave has joined the Alliance as the Executive Director to lead our initiatives to make golf more accessible for all. Dave's experience in the industry make him ideally suited to move the Alliance and its strategic plan forward."
About the National Alliance
The National Alliance for Accessible Golf is a charitable organization working to ensure the opportunity for all individuals to play the game of golf. The National Alliance is represented by major golf organizations in the United States, organizations that provide services for people with disabilities, and other advocates. Since 2001, the National Alliance has worked tirelessly to ensure opportunities for all individuals to play the game of golf. Its work has included the development of resources for individuals with disabilities, golf instructors and professionals, golf course owners and operators, local golf programs, and the greater industry. For more information about National Alliance programs, please visit www.accessgolf.org.