Adaptative Golf Coach Patti Valero to Speak at Inclusive Golf Conference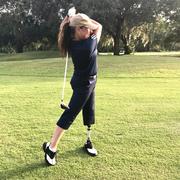 Hobe Sound, FL – Adaptive Golf Coach Patti Valero will be the featured speaker at the upcoming National Alliance for Accessible Golf (National Alliance) Inclusive Golf Conference, January 23, 2020, in Orlando, FL. The event will be co-located with the PGA's Merchandise Show to allow interested individuals to attend both events.
Before starting a golf career, Patti spent 25 years as a Firefighter Paramedic with Hillsborough County Fire Rescue. During her career, she was named the first woman Firefighter of the Year.
After a successful career serving the community, Patti became an adaptive golf coach. Patti Valero enjoys trying new sports (sled hockey anyone) and participating in an adaptive golf clinic twice a month for active and retired military personnel.
Patti is currently the number one female from the United States in the World Golf Ranking for Golfers with disabilities. She is the 2019 Canadian Amputee & Disabled National Open Champion. She is also the 2019 US Adaptive Golf Alliance International Champion. Patti is on Team USA's Para-Golf team.
Slated for 8:00 a.m. to 1:00 p.m. at the Orange County Convention Center, the Conference will feature speakers, panel discussions, and collaboration on increasing the opportunities for individuals with disabilities and building bridges with likeminded communities. Projected attendees will include PGA and LPGA golf professionals, current and prospective grant recipients, local program coordinators, and all those interested in inclusive opportunities.
Through the presentation of this event, the Alliance continues to further its mission to increase awareness and participation of people with disabilities in the game of golf through advocacy and promotion, education, training initiatives, and program funding. This conference will have continuing education credits applied based on the registrant's membership organization.
Registration is open now through January 15, and the full agenda is available at https://www.accessgolf.org/resources/accessible-inclusive-golf-conference/.
About the Alliance
The National Alliance for Accessible Golf is a charitable organization working to ensure the opportunity for all individuals to play the game of golf. The Alliance is represented by major golf organizations in the United States, organizations that provide services for people with disabilities and other advocates. Through GAIN™ (Golf: Accessible and Inclusive Networks) and other programs, the Alliance promotes inclusion and awareness to the golf industry, golf instructors, and the public. For more information about Alliance programs, please visit accessgolf.org.
For more information or inquiries, contact Executive Director Steve Jubb, PGA, at Steve@accessgolf.org or (772) 233-1879.