Coaching Tip of the Month
Swinging From a Seated Position
Judy Alvarez
www.judyalvarez.com

I have seen a variety of swings from different sitting positions. It depends on the severity of the injury, the individual, their athletic ability, strength, coordination, and guts. For golfers who need to sit and swing, they can swing from either a wheelchair or motorized car. A motorized car comes with a swivel seat and usually some sort of a seat-belt device. Luggage straps can be used if the car does not come already equipped. If a single rider car cannot be found, a regular golf car (without the top) can be retrofitted by removing the bench seats and installing swivel seats. Now finding one to retrofit could be hard and this usually requires buying one or contacting municipal, county, or state operated golf courses. When I was the Head Pro at a county operated golf course, we applied for a grant from the USGA to buy and retrofit two golf cars. At one point we even used swivel seats from an old fishing boat.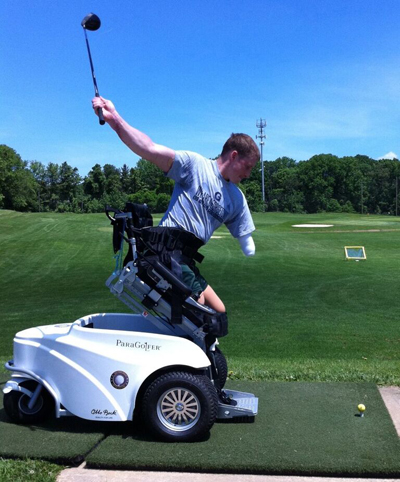 Some people like to swing out of a chair and others prefer to swing out of a motorized golf car. Sometimes a motorized golf car is not available so use your chair. Once in the golf car and in position to swing (beginning with a 7 or 5 iron), set the parking brake and turn the swivel-seat 90 degrees to the side or 180 degrees to the back of the car. Keep your feet on the ground for support and balance. The trickiest part is positioning the golf car to enable hitting the ball towards the target. To reduce back pain, use pillows for support if you are leaning away from the seat.
For a wheelchair user there are two positions from which to hit the side or the front of the chair. Apply the brakes before swinging in either position.
From the side
This position allows for only a one-armed swing. Use a 5 or 7 iron that is about 21 to 24 inches long to get started. Tee up the ball parallel to your shoulders. Let your arm hang to the side naturally and grip the club firmly but not too tightly and swing. The swing should be with a controlled tempo. Do not try to hit the ball hard. Swing with only the force that allows you to remain seated in your chair. You may have to remove the armrest as an option. One of my students had a stroke that left him paralyzed and very frail. Since he did not have a lot of energy and fatigued quickly, this position was recommended. Even though he did not hit the ball very far, he was back playing golf with his wife and grandchildren.
From the front
This position is recommended for someone with a stronger upper body. Position the ball in the middle of your legs. Spread your legs to the side of the chair and use pillows, if necessary, to support your back while swinging. Use a luggage strap around your waist or under your armpits to secure yourself in the chair while swinging a 5 or 7 iron. You will need to experiment to learn where best to apply the strap. Try to keep your spine from moving and rotate your swing around your spine. Try to keep your head from moving while swinging. Use a lightweight club with a flatter lie.