Programs In Focus
Neurodiverse Family Haven
The Sleepy Hollow Golf Course
By Jenn Bozard - Programs and Marketing Manager
The Neurodiverse Family Haven (NFH) started with an idea in 2011 to help individuals with special abilities and provide a place that feels like a true home. This simple idea has now blossomed into a vision of empowering people of all abilities to grow and explore their highest potential by instilling belief and increasing confidence. Ray and Stephany Nadon, our founders, began to build NFH - a place where individuals with intellectual and developmental disabilities (IDD) could receive the highest quality of care. They began by offering waiver based services such a group home, day habilitation, and supported employment. NFH started serving the community in Anchorage, Alaska, and over the last 12 years have expanded to serve the communities in the Matanuska-Susitna and Fairbanks North Star Boroughs in the state of Alaska.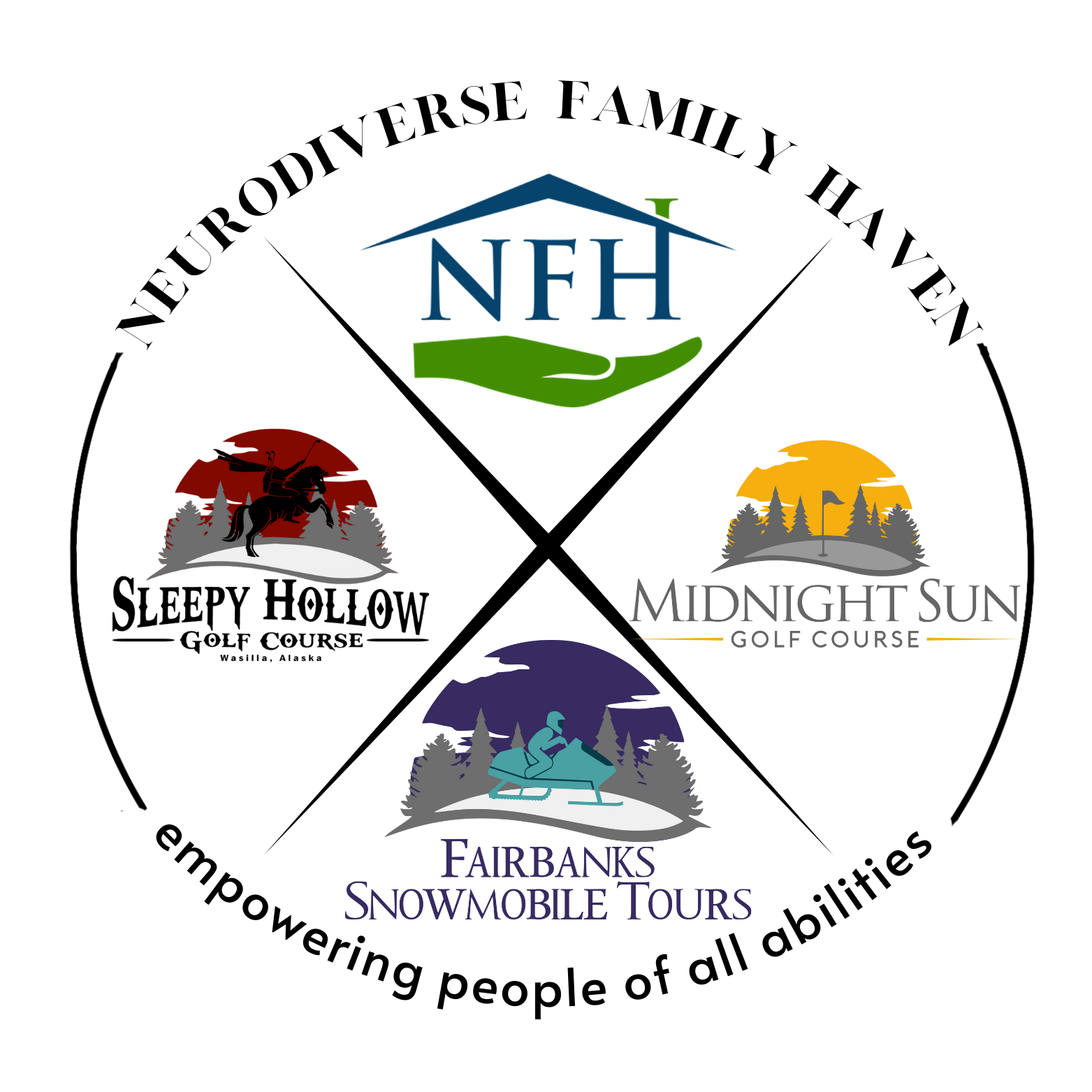 In their efforts to create meaningful lives for individuals with IDD, it became apparent that the opportunity for employment held a significant impact on one's ability to truly thrive. Jim Collins said it best: "For, in the end, it is impossible to have a great life unless it is a meaningful life. And it is very difficult to have a meaningful life without meaningful work." It is here where NFH saw a need to increase access to meaningful work in a setting that aligns more with real-life and provides opportunities for competitive employment while still providing supportive group home and day habilitation services focused on increasing independent living skills.
From 2016 to 2021, NFH partnered with Gateway to the Arctic in Talkeetna, Alaska to provide meaningful employment for individuals with special abilities. It was here at Gateway to the Arctic where the value of working in nature was discovered to be highly beneficial. Not only were the employees learning how to be employed and growing in professional development, but the therapeutic benefits of working in nature reduced negative behaviors and minimized behaviors that would normally hinder their ability to thrive in a worksite.
In 2018, the Golden Heart Workshop began in Fairbanks, Alaska. Golden Heart Workshop builds handcrafted wood furniture that is built with the purpose of empowerment. At Golden Heart Workshop, individuals with special abilities learn job skills in carpentry and customer service. Customers have enjoyed a vast range of products from garden planter boxes to farmhouse style side tables.
Building on the discovery made while partnered with Gateway to the Arctic, Ray and Stephany Nadon bought a golf course called Sleepy Hollow Golf Course in Wasilla, Alaska in 2020 to provide meaningful work for individuals with special abilities. From jobs in greens management to maintenance and customer service, Sleepy Hollow Golf Course provides diverse opportunities for individuals with special abilities to learn job skills through on-the-job training and have access to professional development classes. We saw the exact same positive outcomes at Sleepy Hollow Golf Course as we had seen on a smaller scale at Gateway to the Arctic. Watching individuals thrive in their employment opened doors for some to reach the highest level of independence and no longer require services! What an accomplishment!
With such success, we sought to replicate the model in Fairbanks, Alaska, and bought Midnight Sun Golf Course in 2021 to provide meaningful work for the community of Fairbanks and other surrounding areas. Over the last two years we have expanded our jobs to include culinary through the restaurants located at both golf courses, marketing, and agriculture! The positive impact we have seen working nature coupled with the need in Alaska for increasing food sustainability, each golf course is expanding and interweaving agriculture into its operation through both hydroponics for year-round production and traditional soil gardening.
Not only do we focus on empowering individuals with special abilities to grow and thrive through employment, but we also strive to be a place where our communities can grow and thrive alongside them. We offer inclusive camps and programming throughout the year to provide opportunities for all children to learn, play, and have fun! Our camps and programming blend golf with traditional camp activities and include a focus on leadership and service. We have a partnership with the University of Fairbanks in their UAF NSF Permafrost Grown project where research is underway exploring the effects of permafrost on agriculture. Being a light in our community and fostering inclusivity propels our desire for increasing community connection.
You may wonder if these opportunities are seasonal as the golf season in the arctic is rather short. You are right that the season for outside golf on the courses is short, but employment does not stop when the snow flies. Both locations have a golf simulator providing the opportunity for the communities to continue to come and play. Restaurants at each location are open offering a variety of delicious food and beverages. And in Fairbanks, we run snowmobile tours all winter long! Bottom line, our ability to provide meaningful employment to help individuals with special abilities thrive is only capped by our creativity and drive to empower them! We believe that a world powered by inclusion is a world where every individual grows and thrives – which leads to a world in which each and every community can shine. At NFH, we are grateful we have the privilege to be part of a wonderful future built on inclusion.