Golfer Spotlight with Rich O'Brien
CDR Rob Ballard, USN
The Paramobile is a Vehicle of Access to a World Full of Amazing People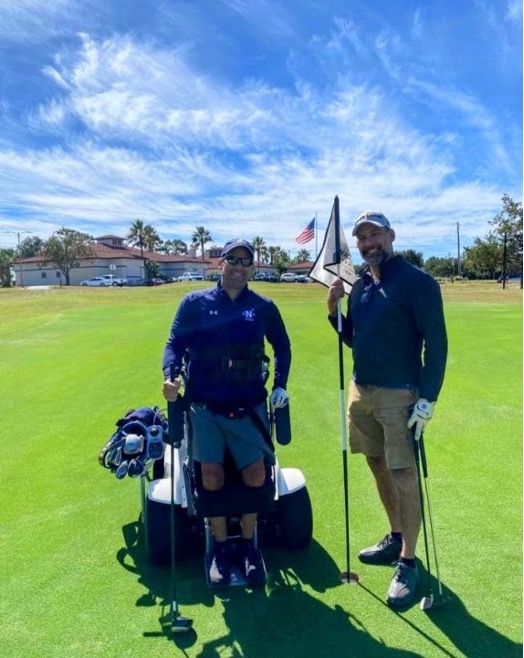 By Rich O'Brien - Commander Robert Ballard was born on November 13th, 1979 in Louisville, KY and grew up in Weddington, NC near Charlotte. He graduated in 1998 from Sun Valley High School where he worked hard to be a well-rounded student and athlete who was a member of the National Honor Society, French Honor Society, and was a varsity athlete in three sports. His hard work was rewarded as he received an appointment to the United States Naval Academy from Congressman Bill Hefner of North Carolina and graduated in the class of 2002.
Upon graduating from the Naval Academy, he attended Naval Aviation Schools Command (NAVAVSCOLSCOM or NASC), located at Naval Air Station Pensacola, FL where he trained for his "Wings of Gold" as a helicopter pilot.
He then began his distinguished Naval career that has sent him around the globe in defense of our country. His stateside billets included Norfolk Air Station and Naval Base San Diego. He moved his family overseas for several forward deployed assignments that include the Kingdom of Bahrain and the Republic of Korea (South Korea). He also had numerous overseas deployments assigned to various carrier and amphibious strike groups that have supported all campaigns against global terrorism since 9/11. He spent the majority of his 30's in the Middle East and in the Far East.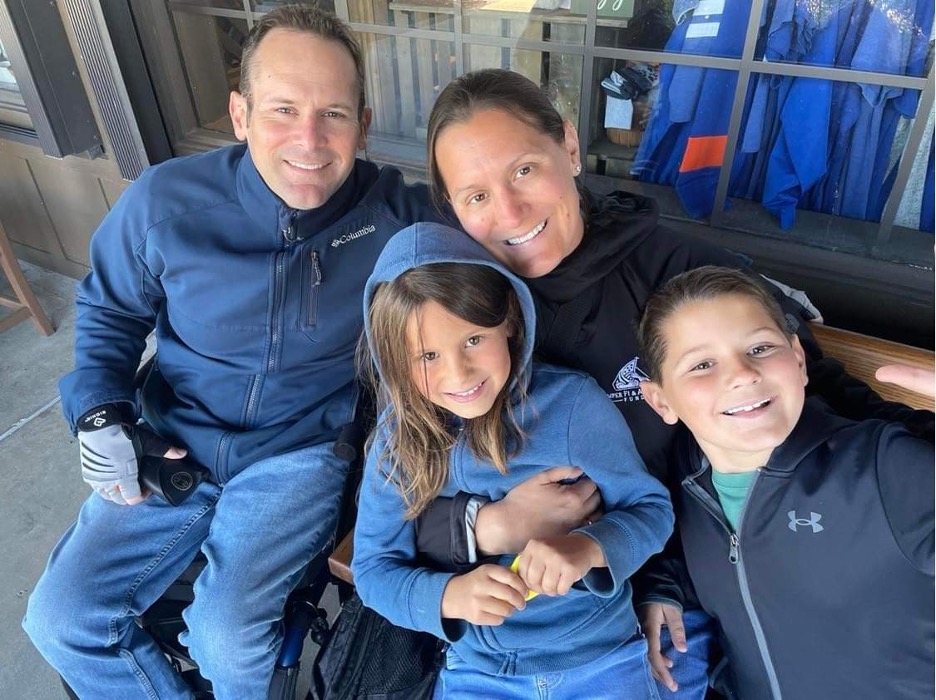 He married his lovely bride Lindsay Kennedy in May of 2007 and the couple has two children; Weston (9) and Whitley (6). Their children have spent the majority of their lives overseas and Whitley was born in Seoul, Korea at Yongsan Army Garrison 121 Hospital. Lindsay is not only an amazing and dedicated Navy spouse but has also worked as an accredited financial counselor helping service members in the U.S. and all over the world for the past 15 years. Rob chose his duty assignments not only to be in the best place to help his country but also the best quality of life and situation for his family.
In 2020, Commander Ballard was assigned stateside to Pensacola, FL as a Flight Instructor at Naval Air Station Whiting Field. On August 19th, 2021, while on a training flight with a foreign national student pilot their TH-57 Sea Ranger suffered a mishap and crashed. By the grace of God, he and his student survived the crash, but he suffered a T11 complete spinal cord injury that has resulted in paralysis below the waist.
Suffering a spinal cord injury certainly changes the trajectory of a person's life and it is often a person's attitude that determines the quality of life following their injury. Commander Ballard's spirit is strong, and his positivity is very infectious. That combined with an amazing support system developed by his wife Lindsay, has enabled Commander Ballard to continue to thrive, relish the precious moments in life, and look towards a bright future of helping all Veterans with disabilities. Rob remains on active duty and is currently working out of the Chaplains Office at Whiting Field mentoring pilots who are making decisions on their future. He is scheduled to retire from active duty in July of 2023 after 25 years of service (including Naval Academy).
Rob's brother Jim has also provided tremendous support following the accident and it was Jim who contacted the Stand Up and Play Foundation about assistance for his brother. Upon receiving notification of Rob's situation, Stand Up and Play Foundation founder, Anthony Netto, spoke to Jim and Rob and within a few days a paramobile was shipped to Pensacola as part of a grant of use agreement for Rob.
Anthony also asked James Tipton, the Director of the Florida Panhandle Chapter of Stand Up and Play Foundation, to mentor Rob. "Tip" invited Rob to the golf therapy clinics that he hosts at Bay Point Golf Club in Panama City. On a weekly basis, Rob began driving two and a half hours from Pensacola to Panama City to participate in the clinics.
Rob began scouting out golf courses in the Pensacola area that would allow him to play the course with a paramobile. A number of courses in the Pensacola area were reluctant but one of the courses, Scenic Hills Country Club, called him and were thrilled to welcome one of our nation's heroes with open arms. He and his family have a membership to the club and Weston enjoys the social aspects of the game. Rob usually plays golf once a week at Scenic Hills with his children. Weston especially enjoys when the beverage cart, or as he calls it, the "snack cart" comes by.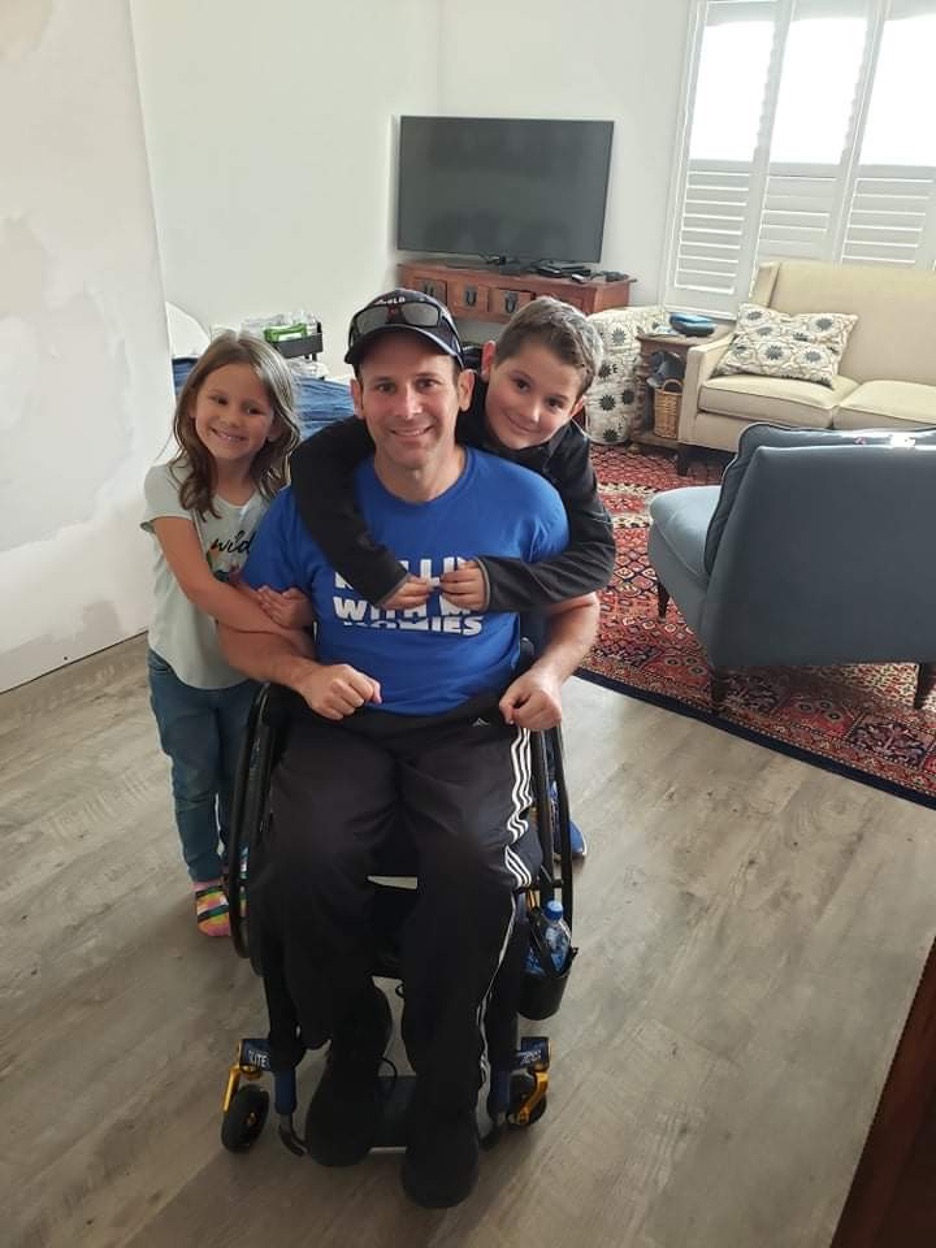 As a father, Rob is a very hands-on and attentive Dad, and he has passed on his love of sports to his son and daughter. Rob had been coaching Weston's pee wee football team and was teaching his children how to play golf and other sports. The paramobile will allow him to continue to coach his children from a standing position.
The paramobile will also allow him to enjoy the important benefits that standing therapy and recreation therapy provides individuals with spinal cord injuries, including maintaining one's bone density, improved breathing, and reduced digestive and bowel issues.
The paramobile literally has change the trajectory of not only his life, but that of his family as well as the many other heroes whom he will be able to encourage with his positive attitude. Rob added, "The paramobile truly brings a community together and it is a vehicle of access to a world full of amazing people."
This article was originally published in LinkedIn on Nov 9, 2022. You may view the original HERE.
******************

About the Author
Rich O'Brien is a member of the Board of Directors for the National Alliance for Accessible Golf. Rich is a golf writer who tells the stories of golfers who use golf as therapy to recover from their injuries, illnesses, or challenges. Rich survived a complex polytrauma that included a broken back, a broken neck, four skull fractures, and brain damage in every lobe of his brain. Golf therapy was a big part of his own recovery. Now he is an advocate for individuals with disabilities.
****************
Use of materials from Golf Inclusion Monthly: Please note, the Alliance encourages you to repurpose and share articles we have written or that have been provided to us for publishing in Golf Inclusion Monthly. We request that you please reference Golf Inclusion Monthly Published by the National Alliance for Accessible Golf and share the link for the article you have sourced. If you have any questions, please reach out to info@accessgolf.org. Thank you.